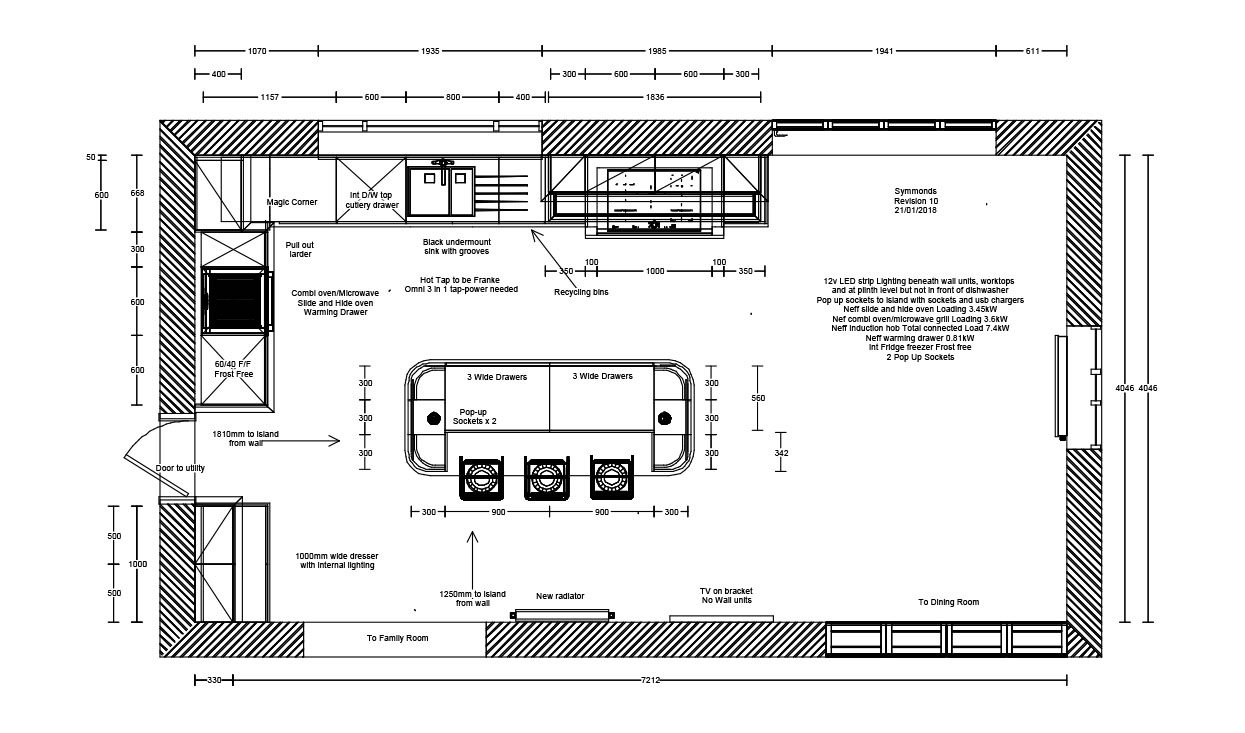 It's a kitchen, family room and heart of the home
Whether replacing your current kitchen, remodelling  to create a more of an open plan kitchen space or building a new home, the design of the kitchen is one of the the most important element of any project.
Design your kitchen using the working triangle. Chef's move efficiently and quickly around the kitchen when the cooling, preparation and cooking areas close to hand.
Traditional U shaped, galley and L shaped kitchens will always be relevant in any design but lifestyles have changed. We want space, more worktops surface area, better appliances, space to socialise whilst cooking and everyone in one room together. The heart of the home.
Dining rooms are being used less and walls are removed to create these larger open plan kitchen/family rooms. Projects are becoming larger and need specialist design from your kitchen design company. Relaxed seating and media also play a larger roll in the design process.
Kitchens are made up of furniture and appliances but as walls are removed there is less space for wall cabinets. Tall cabinets remain important for fridge freezers and eye level appliances. Islands add worktop space, take up much of the lost wall unit storage capacity and can add informal seating. Smaller walls can have shelving or pantry units.
Planning Tips
Look at the kitchen area as a plan (from above). Break it up into chunks and you will find it easier to fill in the gaps after the main areas are sketched out. Remember the elements that you like in your current kitchen and add a wish list. Consider boiling water taps (no kettle), coming's oven/microwaves, warming drawers which all keep items off worktops. Wine coolers free up fridge space, pantry units swallow up baking appliances and ingredients and personalise your design.Likewise, don't include those that frustrated you before or move them, i.e. waste disposals, wall microwaves, water softeners that can't be accessed properly, dead corners, worktop clutter.
Wet and recycling area
Sinks are generally in front of a window as this is where the rising water main and waste pipes are situated. Your dishwasher and recycling bin unit should also be placed here on this run.
Cooking area
Decide where to put the oven and hob as don't have to be together. Ovens, combination microwaves and warming drawers are easier to access in tall housings. Hobs sit well above wide drawer packs but remember extraction. If on a n outside wall can you extract to outside. If on the island, should it be an island or ceiling extractor a downdraft behind the hob or a hob with a built in extractor. For silence extraction fit an external motor to draw out the air silently.
Refrigeration Area
Position your refrigeration taking into account access, type of appliance and capacity. American fridge freezer have good fridge capacity but with ice and water, not as much freezing capacity. These can be plumbed in or not. Built in fridge freezers are usually 50-50 split or 60-40 with a larger fridge. Frost free means need to defrost (so worth it). Avoid putting these items in areas of heavier traffic. Use a corner or separate wall but near enough to get the milk when you need it.
Islands and peninsulas
Always try to run power to the island for sockets with usb's (gas if you plan to have a gas hob). An induction hob will need a new ring main but the electrician can do this. If chasing a channel in the floor for power cables think about your flooring finish and underfloor heating options.
Free standing islands can be any size and don't always have seating. With base cabinets on the front, shallow cabinets on the rear and an overhang for seating your worktop will be 1200mm deep, without the shallow units it will be 900mm deep. with no seating or hob it can be 650mm deep. Length depends on your room but maintain a minimum walkway of 900mm at each end. Allow approx 800mm per person for seating.
Try and have as many drawers as you can as they make everything is accessible. Always use high quality corner storage solutions and appliances that will last. Make sure the furniture (cabinets) are good quality 18mm MFC with soft close hinges and drawers as standard.
Lighting
Overall lighting is crucial in kitchen designs of any size. Ceiling spots, pendants and kitchen LED lighting need careful planning.. Warm white and cool white work well but I find Natural white works better in most kitchens.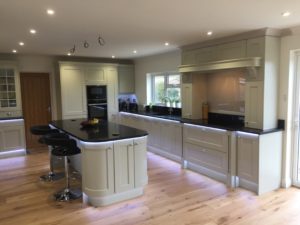 Simon Sparkes