About Chilli Kitchens
A reliable, professional team with a modern creative edge.
Who we are
We are a straightforward, friendly team with years of hard work, experience and dedication behind us. We pride ourselves with the ability to plan, design, visualise, install and complete the kitchen you really want. Our team is made up of strong individuals who each have their own strengths where combined gives our company the definite edge in the kitchen industry. We pride ourselves on providing high quality kitchens and we have lots of genuine customer testimonials to back it up.
– Simon Sparkes, Managing Director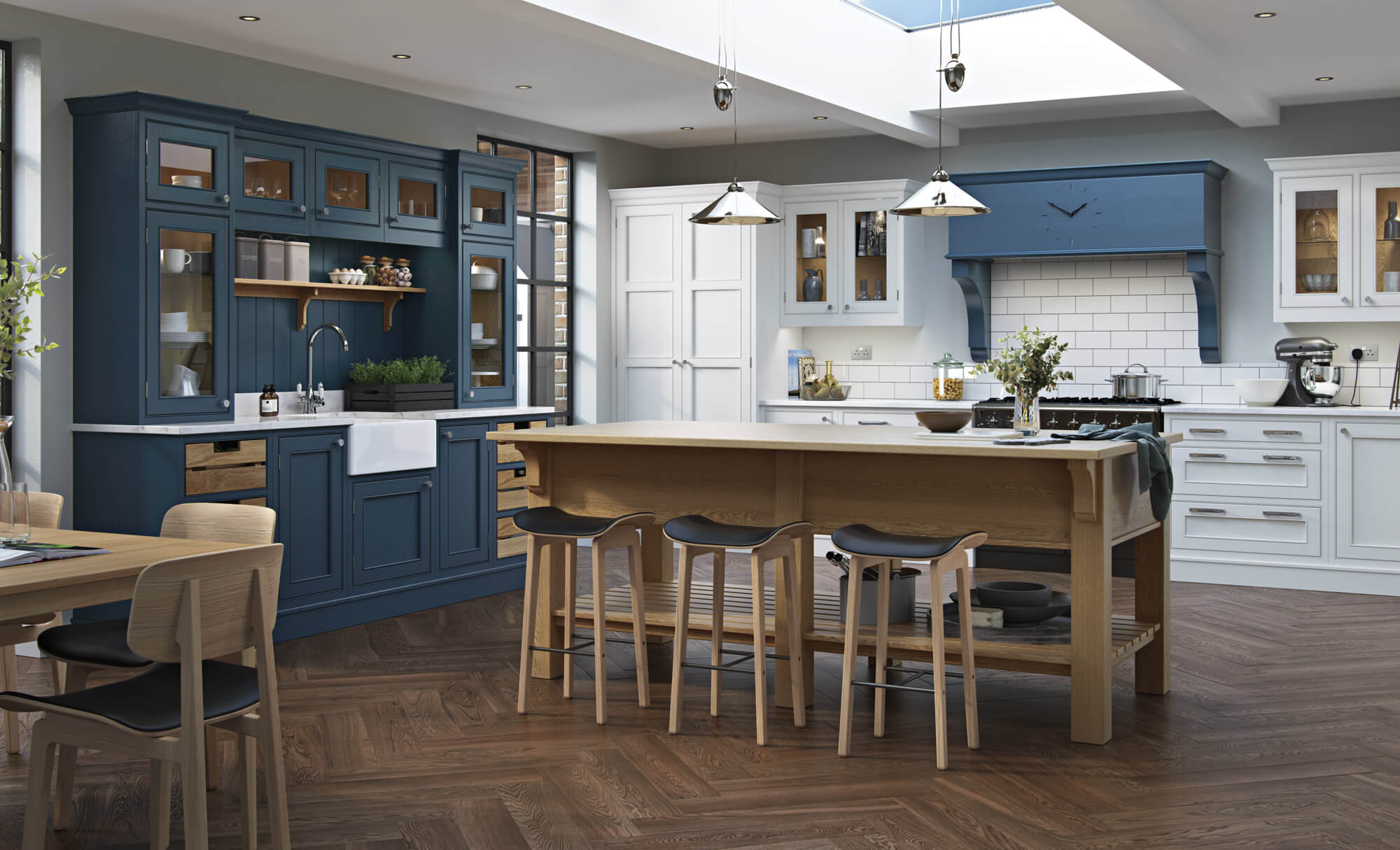 Testimonials
Here's what our customers had to say...
Mrs O

Neston

"I was impressed with the client focus and in Simon's personable approach; I felt listened to and he was honest about what he thought whilst at all times respecting my opinions and I didn't feel silly asking questions! Richard who fitted the kitchen was great; very friendly and reliable and easy to have around. The finish was excellent and my kitchen looks great!"
Mr & Mrs T

South Wraxall

"We found Chilli Kitchen's staff friendly and easy to work with from the beginning, kitchen design all the way through to the final fitting in our house - they coped efficiently but in a relaxed manner with my late changes and we are very happy with the end product - thank you!"
Mrs MacP, Manchester

"We are delighted with our new kitchen and it has transformed how we use the space. The quality of the units is superb and we have so much more storage. To be able to source all the appliances from yourselves was also a huge bonus."
Mr Blackburn

"Thanks for your time and patience re our kitchen/build at Alma Field. Nadine loves the kitchen (she doesn't know how to use it....or how to cook) but loves the space and the design and couldn't be happier. The whole build has been quite an adventure, but a resounding success and given the kitchen is the main space of the house we're both incredibly pleased to be here and for your contribution. Thanks, I owe you more than a beer."
AP

Bowerhill

"Chilli kitchens provided us with an excellent service. Simon was knowledgeable and patient. He listened and was encouraging with our design ideas and lead us to our ultimate decisions, which we have been very pleased with. His kitchen fitters were excellent too and ensured that we achieved the result that we desired. I have and would continue to recommend them to friends."
Mr Newton

"My wife and I looked around at 3 kitchen companies knowing that choosing the right one was an important decision. Chilli Kitchens was one of them that was recommended to us. We approached all 3 and asked the same from them to help us design our kitchen. Chilli Kitchens (Simon) was the only one that actually listened to what we were asking for and came up with several options, whereas the others (Wren Kitchens & Active Kitchens & Bathrooms, Calne) just priced what we asked for and never followed up. Simon from Chilli Kitchens provided us with several different drawings, took time to visit us and talk through the options. We were very quickly put at ease and knew straight away Chilli Kitchens would be the right choice. We are more than pleased with the kitchen, the granite worktops from Southern Counties Marble & Granite recommended by Simon and the work carried out by Richard. I would have no hesitation in recommending Chilli Kitchens to family, friends and anyone else looking for a professional job. Simon was always on hand to answer questions whether on the phone or text."
Mike Radford

"Very professional kitchen planning! drew several different plans until we were completely satisfied. The products supplied were of excellent quality and the kitchen fitter was extremely professional."
Newspaper Edit
Take a look at how this customer described Chilli Kitchens.
Mrs T, Bowerhill
Mrs T from Bowerhill was so pleased with her experience with Chilli Kitchens that she wrote a short poem in the "Bowerhill Villager" dedicated to Chilli Kitchens. She mentions how well she was treated in the process and how she thinks that here at Chilli Kitchens – we do it better.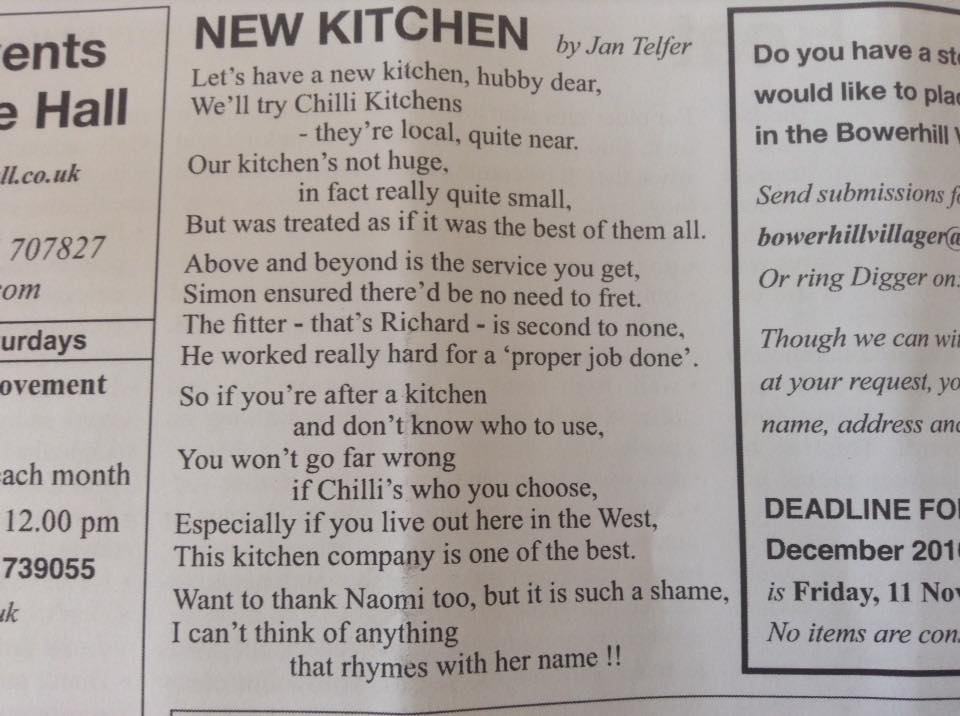 Meet the team
A creative, eagle eyed team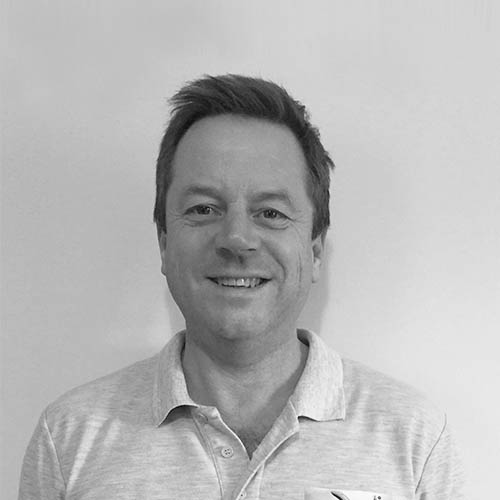 Simon
Managing Director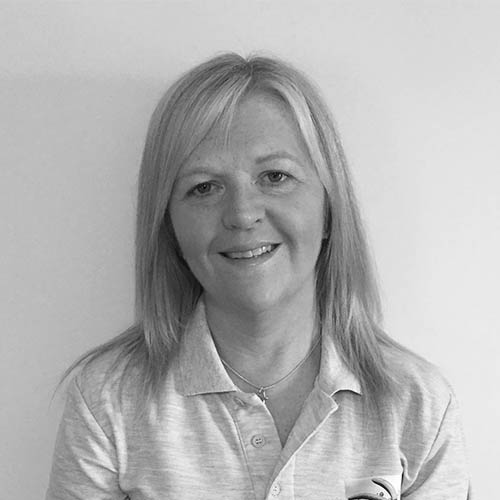 Ciara
Director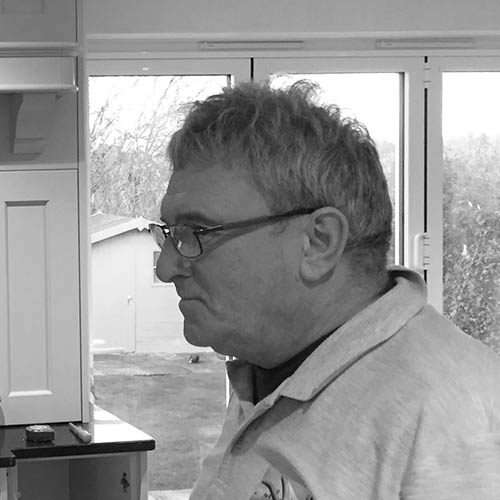 Richard
Kitchen Fitter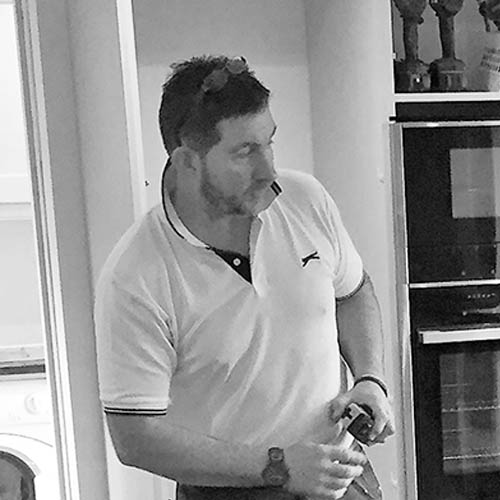 Nigel
Granite Specialist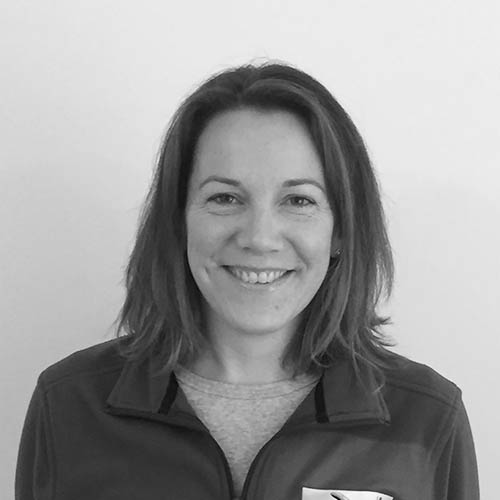 Jackie
Accounts
Ask us a question, we don't bite.
If you have a general enquiry or want to discuss a future project please fill out the form and a member of our team will be in touch.